Air transportation with ZAMMLER – minimum terms and full support
International air transportation of goods is the fastest, safest and safest way of delivery.
Air delivery minimizes any external factors, guaranteeing the safety of the content and the promptness of order fulfillment.
One of the ZAMMLER GROUP offices is located on the territory of the Boryspil International Airport. This allows you to directly control all processes on site from the moment the goods arrive at the airport to the moment the flight is dispatched, as well as promptly resolve all issues with airlines.
International air cargo transportation by air has a number of important advantages:
High speed of delivery;
Maximum adherence to deadlines;
Minimization of any external factors and risks;
Maximum safety of the cargo;
Possibility of transportation of especially valuable cargo;
Possibility of transportation of bulky cargo;
Ideal solution for the pharmaceutical and food industry.
ZAMMLER has been organizing air cargo transportation by air all over the world for over 10 years. Responsible company policy ensuring compliance with delivery times, warranty cargo safety, individual approach to each client, allowed us to win the trust of our clients in a short time.
One of the activities of ZAMMLER is aviation logistics – the organization of the transportation of spare parts and assemblies for aircraft and other equipment that supports the life of the aviation industry. To provide this service, you need experience in handling such goods and high professionalism of the staff.
Benefits of cooperation with our company:
Long-term and successful cooperation with world airlines;
The ability to provide services according to the "door to door" scheme;
Customs brokerage support;
Transportation of special cargo (AVI, HUM, VAL, DIP, PER, MUW, DGR, etc.);
Regularity of flights / dispatches;
Finding alternative routing solutions during periods when international traffic restrictions are in effect;
Wide agent network all over the world;
Loyalty to customers and the ability to develop individual solutions.
In case of air delivery of cargo by plane, it is additionally possible: assistance in preparing the documents necessary for sending the cargo, forwarding, storage of cargo in warehouses, packaging and further shipment with a guarantee of safety.
Our main profile is international delivery, but we also organize air cargo transportation by air in Ukraine. This service is performed in the shortest possible time, subject to all previously agreed conditions.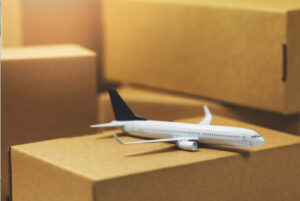 Information that the company's managers need to arrange for the shipment of cargo by plane:
Type of product (name);
Place of shipment and final delivery;
Weight of the cargo;
Parameters of pallets / boxes according to the packing list.
Our regular customers are the world's leading companies.
Have any questions about the service of cargo transportation by air? Get the manager's advice and get an answer to all your questions.
See our other services:
– Road transport
– Sea shipping
– Rail freight
– Container transportation PRC – Ukraine – PRC
– Export from Ukraine to China