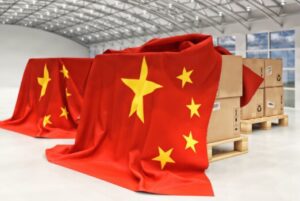 Our Chinese Company Ningbo Zammler Trading Co. LTD has Status of transport operator NVOCC (License of Ministry of Transport and Communications of PRC).
This License is a proof of financial stability and high-quality forwarding services.
Status of transport operator NVOCC allows us to:
■ enter into direct contracts with shipping lines;
■ issue our own letter of consignment;
■ act as consignee for import goods;
■ close the transportation with one document.
Being transport operator NVOCC we are fully responsible for your freight and its delivery. We are ready to provide you with:
■ Container delivery (the ability to send small freight from 1m.kb);
■ Regularly shipment of groupage and full containers;
Air delivery (within 2-5 days);
■ Warehouse for freight consolidation (if necessary repackaging of goods);
■ Customs brokerage;
■ Check accompanying documents.
China is the undoubted leader in the production of goods in the world. Products from China are shipped to different countries. If earlier many were delusional, considering the products of a Chinese manufacturer to be second-rate, but now the quality of the goods purchased from a trusted manufacturer is no longer in doubt.
A quality product accompanied by an affordable price especially attracts the attention of entrepreneurs. Delivery of goods from China is in most cases intermodal transportation. Direct cargo transportation from China is possible only by rail, the route of which passes through Siberia, the Urals, Kazakhstan.
Shipping to China by sea
Transportation of goods from China by sea is the most widespread type of cargo transportation from the Celestial. Sea freight from China is characterized by:
■ high level of reliability;
■ affordable cost for the provision of logistics services;
■ delivery of cargo within the specified time frame.
Sea transportation also has one drawback, which is long delivery times.
Cargo transportation to and from China by sea is carried out by container lines of the world's leading maritime operators, which have established themselves as reliable and responsible partners.
The practice of recent years demonstrates that the main cargo traffic from Ukraine to China is agricultural products. Since it involves the shipment of large volumes, only specialized sea transport is able to solve the assigned transport problems in the best and most profitable way.
In addition to the supply of large consignments of agricultural products, the segment of transportation of small consignments of niche food products is currently actively developing.
Container railway transportation China – Ukraine – China
ZAMMLER offers Ukrainian business the opportunity to receive or send goods by rail in the following directions:
■ PRC -Ukraine
■ Ukraine – PRC
This service makes it possible to reduce the transportation time to 15-20 days in comparison with sea transportation.
The current schedule of dispatches in both directions can be found here.
Railway transportation China – Ukraine
Railway transportation China – Ukraine: 40 dv / HQ containers are now sent once every 2 weeks to the China-Mongolia-Russia-Ukraine route. With the development of services and an increase in the turnover of goods, shipments become more frequent.
The Ukrainian side accepts goods in Kiev at the Liski terminal with the possibility of further delivery "to the door" of the recipient.
Trains run along the China-Mongolia-Russia-Ukraine route.
The Ukrainian side accepts cargo in Kyiv at the Liski terminal.
Railway transportation Ukraine – China
Dispatch takes place on schedule. If your order is 40+ containers, then the train will leave regardless of it.
Benefits of working with ZAMMLER
Thanks to the rapid development of computer technology, modern entrepreneurs have the opportunity to carry out electronic distance purchases. The desire to expand the range of goods by supplying small batches of products from a Chinese manufacturer is inherent in owners of both small and medium-sized businesses.
Search and delivery of goods from China is a service provided by ZAMMLER specialists. Cooperation with our company allows you to prevent financial risks, to ensure the delivery of quality goods from the manufacturer, with whom remote partnerships are maintained.
Also, our company delivers small wholesale as part of groupage cargo. This solution provides a reduction in the cost of cargo delivery services.
Cooperation with our company is accompanied by advantages:
■ we offer flexible terms of cooperation, additional options aimed at increasing comfort and simplifying the company's foreign economic work;
■ we carry out all actions related to the transportation of goods, including the obligations of a foreign trade agent (we carry out a quick search for a reliable Chinese supplier that provides goods that meet customer requirements).
Our company provides an opportunity to order a range of services for the delivery of goods from China, including:
■ registration of customs documents;
■ obtaining permits.
We simplify and accelerate the transportation process, enabling the customer to increase the turnover at the lowest cost.
Other services in China:
– Container transportation PRC – Ukraine – PRC
– Export from Ukraine to China