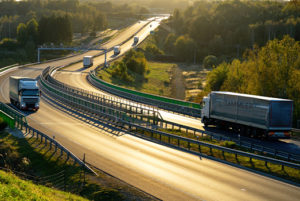 Road freight transportation in Ukraine is now very popular. Trucking in Ukraine is convenient for those who urgently need to transport cargo without wasting time on the road. Regardless of where the recipient is, we deliver the goods quickly and efficiently.
We cooperate with a wide network of transport partners – more than 500 existing agreements throughout Ukraine. Ukraine has its own fleet of 45 trucks of various formats. The number of vehicles regularly increases in line with the growing volume of traffic. It allows to fulfill various types of inquiries from the client, to provide services in due time and qualitatively, irrespective of volumes and directions of automobile transportations of freights across Ukraine.
Types of cargo transported across Ukraine
Our company offers transportation services with reliable freight transport, which will quickly and reliably deliver any type of cargo. We use additional security measures, as well as, if necessary, escorting cargo.
Advantages of cargo delivery by road
Cargo transportation across Ukraine from the ZAMMLER company has many advantages:
we offer the most optimal and safe routes;
modern fleet and a wide partner network throughout Ukraine;
individual schedule and route for each client;
professional drivers with many years of experience;
vehicles are regularly maintained;
tracking the location of cargo using GPS-tracking 24/7.
Every route offered by our company is an efficient, reliable and safe option. We are responsible for each shipment and accompany it from the destination to the point of arrival.
The price for automobile transportations of freights across Ukraine
The cost of transportation of goods in Ukraine is one of the most important issues that concern customers. Therefore, we are ready to assure you that all transportation services we provide are available to most customers.
The exact cost of the route can be calculated only after reviewing the weight, dimensions of the cargo and the distance of future transportation. For customers who do not have cargo for a full truck, it is possible to use the associated transportation, in which they pay only for the delivery of their cargo.
How to order road transport in Ukraine?
You can order a truck by contacting us by phone listed on the website. A large fleet will allow you to choose the necessary transport, and logisticians will make the optimal route.
Frequently Asked Questions
About how the delivery of goods by road in Ukraine, as well as the cost of delivery, you can find out from our specialists by leaving a request or contacting us by phone, indicated in the header of the site. Contact our company to transfer your cargo to reliable responsible hands. We guarantee quality service in the execution of your orders and take into account all the wishes of our customers.