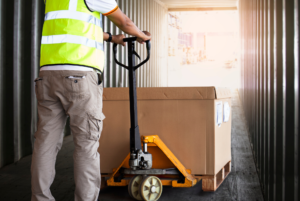 General loads (FTL) – are loads that require one unit of transport and occupy more than 75% of the internal volume of the vehicle. Delivery of general cargo is carried out from the point of loading to the point of unloading and does not require additional warehousing operations – the vehicle is loaded with a large consignment of goods and does not spend time collecting goods from other points.
This allows you to significantly reduce the delivery time and reduce the cost of transportation.
We provide services for the delivery of general cargo in Ukraine, in / from Europe, the Baltic States and the CIS.
Transportation is carried out by our own fleet, as well as the transport of our partners.
35% of the vehicles used for transportation are refrigerators, 65% are tilt trucks. This ratio of transport allows for transportation for different segments, including the transportation of goods that require temperature.
Each delivery of complete cargoes is carried out on an individually developed route – with the least expenses of time.
Advantages of general cargo transportation (FTL) with ZAMMLER:
Due to the fact that each client has special requirements for transportation, we offer various delivery options based on the request. We offer:
Extensive transport network (partners around the world and Ukraine, own fleet);
Possibility of delivery of general cargoes to any point of Ukraine, the Baltic States, Europe and the CIS;
Optimal cost of transportation of 1 place to the general expenses for logistics in comparison with transportation of groupage cargoes;
Door-to-door delivery;
Optimal routes;
Cargo location tracking 24/7, customer information support;
Ability to provide a full range of logistics services: warehousing, customs brokerage services, insurance, round-the-clock security and escort of cargo if necessary.