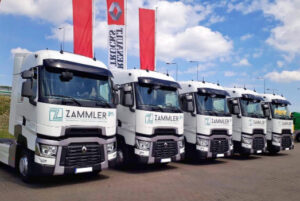 ZAMMLER started its activity on the Polish market in 2014.
Own transport infrastructure is represented by 72 (2021) EURO-6 trucks, the number of which is regularly increasing in line with the growing traffic volumes.
In 2020 ZAMMLER POLSKA Sp. z o.o. received a certificate of compliance with the TAPA TSR freight safety standards.
Services in Poland:
Clients include leading global companies in the e-commerce, household appliances and FMCG segment.
Other ZAMMLER GROUP offices:
– Services in Ukraine
– Services in Kazakhstan
– Services in China