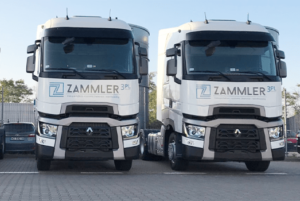 International transportation by road from our company is the best opportunity for you to quickly deliver cargo to any point in Europe and the CIS countries.
We cooperate with an extensive partner network in the EU and CIS countries. Own vehicle fleet of ZAMMLER GROUP consists of 119 trucks of different carrying capacity and types. The number of vehicles is regularly increasing in line with the growing traffic volumes. This allows us to fulfill various types of requests from the client, to provide services in a timely manner and with high quality, regardless of the volume and directions of road transport of goods.
ZAMMLER company provides:
International road transportation of complete and groupage cargo:
– transportation of goods from Ukraine to European countries and in the opposite direction;
– transportation of goods across the territory of all European countries;
– transportation between the countries of Europe and the CIS;
– transportation of groupage cargo within Europe according to the "door to door" scheme;
– execution of export and transit documents (EX1, T1, CMR, TIR);
– consolidation and storage in warehouses in the EU countries;
– customs clearance;
– cargo insurance.
Transportation of refrigerated cargo;
Groupage cargo transportation.
Each car is driven by professional drivers with many years of experience, each car undergoes a thorough technical inspection before the flight.
Therefore, international road freight transportation is carried out in strict compliance with all clauses of the contract signed with the client.
Advantages of international road freight transport
Automobile international cargo transportation is in demand, since they optimally combine the price and quality of services:
Ability to supply cars in a short time to almost any point where there are highways;
Suitable for transporting a large group of goods (cargo on pallets, in big bags, in bags, in boxes, in rolls, transportation of equipment, FMCG-goods, dangerous goods and others);
Using a door-to-door scheme;
Ability to collect cargo in several places, from several senders and delivery to several recipients;
Operational control of traffic through mobile and GPS communication with drivers;
Safety of transported goods;
Accurate delivery on time;
Ability to organize warehousing services;
Customs broker services for any type of goods;
Cargo insurance;
Round-the-clock security and escort, if necessary.
Our company is fully responsible for every shipment that enters our warehouse. Therefore, we include all types of services in the overall package that we offer to the client.
Types of road transport and types of transported goods
International road transport includes the transportation of both general and special cargo. Classification of goods is necessary so that carriers can organize the best route, select the required mode of transport and optimize the costs of preparing for transportation. After all, each type of cargo requires special transportation conditions.
Assistance in paperwork for international road transport
International road transportation is carried out between different states, therefore, it must comply with the legislation of each of them. Our staff employs experienced specialists who will help you complete customs documents, go through control, obtain certificates and permits. And also to settle the customs conflict in case of its occurrence. The organization of international road transport is not an easy process. The entire organization of cargo transportation by road, from the delivery of cargo to the warehouse and ending with its delivery to the address, is under the personal control of our team.
Price for delivery of goods by road
The price for international road transport of goods will depend on the length of the route, the type and classification of the cargo, as well as the special wishes of the client. We choose the most optimal transport option in order to quickly and cost-effectively complete the transportation. To order international cargo transportation, please call the phone number listed on the website.
How to order international road transportation of goods?
To order international transport by road, you first need to decide on a service provider. Our company is what you need, especially if you are applying for such a service for the first time. Our logisticians will select a profitable route, prepare all the necessary documents. Professional drivers will quickly and on time deliver your cargo, providing a full report on the work performed. International road transport is a service that we provide with high quality, because we have enough experience in organizing the most difficult and longest routes.
Frequently Asked Questions
Automobile cargo transportation in Europe is one of the most popular requests with which clients turn to us. We are ready to discuss with you the transportation of goods to any country, giving you the opportunity to choose a transport and route. And also consultants will tell you about the peculiarities of cargo delivery to countries on other continents. We are engaged in the transportation of general cargo and groupage. Depending on the point of departure and final destination, it is possible to organize multimodal transportation, when several types of transport are involved in the delivery.
Therefore, by contacting ZAMMLER for the organization of international road transportation of goods, you will get the desired result.