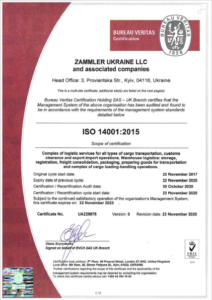 In October this year, ZAMMLER UKRAINE LLC and ZAMMLER SKLAD LLC successfully passed an external recertification audit in accordance with the environmental management system.
As a result of the audit, new versions of the certificate were received, which confirm that the current system of companies fully complies with the requirements of the international standard ISO 14001: 2015 "Environmental Management System".
As a reminder, Zammler Polska Sp. z o.o. is also certified to this standard.