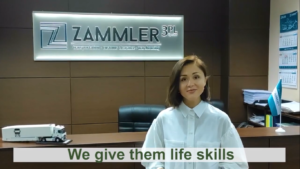 A video of the Corporate Mentoring project, which is supported by the logistics group ZAMMLER, was presented at the European Mentoring Summit 2020 in Barcelona. Among hundreds of international projects, the Ukrainian video presentation was chosen as one of the finalists.
The group of logistics companies ZAMMLER has been actively participating in the Corporate Mentoring program of the International Mentoring Association for Children and Youth for about a year. Within the framework of cooperation, ZAMMLER introduces teenagers to the profession of logistics, as well as related specialties.
Corporate Mentoring is a program of business support, in cooperation with non-profit organizations and the state, of adolescent orphans brought up in boarding schools and boarding school graduates. These children are now one of the most vulnerable categories, because, in most cases, they do not feel safe, live without trust in adults, experience psychological trauma, suffer from communication problems and often do not believe in themselves or in their future. Therefore, they need help in understanding their talents, desires and opportunities to determine their future profession. The global goal of the program is to help the generation of risk become the generation of opportunities.
As part of Corporate Mentoring, we have already managed to acquaint teenagers with the profession of logistics and other related specialties, and also showed the very heart of ZAMMLER – one of the warehouse complexes in the Kiev region.
This is not the first social project for ZAMMLER, we regularly support initiatives aimed at helping orphans, children from vulnerable families and families in crisis. Supporting a corporate mentoring project is our contribution to the personal development of adolescents and the disclosure of their professional potential.
You can watch the video presented at the European Mentoring Summit here.