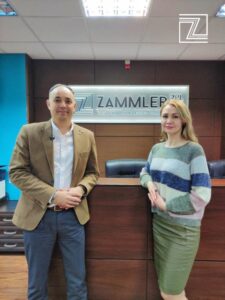 Of course, it was about the Polish market, about our representative office ZAMMLER POLSKA Sp. z o.o., difficulties and successes.
The conversation was intense, many important topics were raised, draw conclusions and touch on plans for the future:
Poland's geographical location and proximity to Ukraine's borders have made logistics prices more attractive;
There are many difficulties, and the process of overcoming them is ongoing;
Competition must and can be fought by providing a high level of service and responsibility for their actions;
ZAMMLER POLSKA Sp. z o.o. opened at the request of the client. Currently, the company feels quite confident in the Polish market, as in the client portfolio – a world-class company;
Plans for the near future are to increase the fleet to 200 units and build its own car maintenance center on the Poland-Germany border, launch an office in Germany, and open three more offices in Kazakhstan.
ZAMMLER is always happy to welcome guests and share experiences. Thank you to the Polish-Ukrainian Chamber of Commerce for a warm visit!