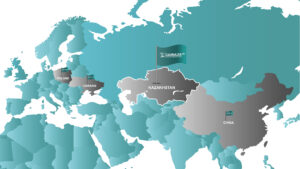 Dear partners! We are pleased to announce that ZAMMLER GROUP has opened another international representative office in the Republic of Kazakhstan (our international representative offices also operate in Poland and China). We have become a logistics partner of the largest e-commerce platform in Kazakhstan –  Kaspi.kz.
Currently we provide delivery of orders from the Store on Kaspi.kz to the ZAMMLER sorting center, where goods are prepared for shipment through other logistics partners in all regions of the Republic. Under the roof of the warehouse complex there are mini-divisions of the leading courier companies of Kazakhstan, which are delivering orders to final customers.
Now the representative offices of the Ukrainian company work in the cities of Almaty and Shymkent, among the nearest plans – opening in city of Nur-Sultan.
Kaspi.kz is constantly increasing the range of goods, adding new partners and expanding delivery service to the whole country. Since the beginning of the year, the number of orders has increased by 116% or more than 2 times compared to last year. Now Kaspi.kz cooperates with six leading courier companies, including the Ukrainian company ZAMMLER.
"The representative office in Kazakhstan started working in early March. Now we have already passed through the most difficult period of startup, configuration of all processes and reach the expected result. ZAMMLER in Kazakhstan operates two warehouses with a total area of ​​1610 м². The work is provided by 40 staff members, vehicle fleet includes 11 cars. We do not intend to dwell on these figures, because we see both the client's interest and market perspectives for further expansion", said Victor Shevchenko, CEO of the ZAMMLER logistics group.
ZAMMLER's representative office in Kazakhstan opened at the peak of the COVID-19 epidemic, which made its adjustments: took additional security measures, carefully predict costs, adjust to new requirements of document management, improve IT processes. We managed to start successfully in a relatively short period due to the use of the latest technologies, the client's willingness to work closely with the logistics provider, as well as – correct management decision and professionalism of the team.