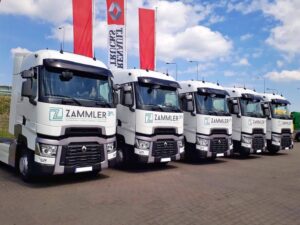 Road transport both in Ukraine and international from ZAMMLER is carried out at the expense of its own fleet in Ukraine and Europe, as well as an extensive network of partners in all key areas.
Today, the fleet consists of 164 trucks, the number of which is constantly increasing and by the end of 2022 plans to cross the border of 200.
Cars with different capacities – 3t, 5t, 20t give the opportunity to fulfill orders of different volume, depending on the customer's needs.
All cars are regularly inspected. An ambulance is available around the clock to support the fleet's activities. Experienced car mechanics are ready to come to the location of the truck if necessary and settle the issue.
Drivers are exclusively experienced professionals who regularly undergo the necessary medical examinations.
All cars are equipped with a GPS-navigation system, which allows real-time tracking of the location of the car and, if necessary, promptly inform the customer about the location of the goods.
The fleet in Europe meets all the requirements of local legislation – all trucks of high environmental class EURO-6, equipped with chips to monitor drivers' compliance with the rules "on the road-rest". When hiring, drivers undergo an in-depth medical examination and are tested on driving skills, knowledge of traffic rules, the ability to navigate the signs of the European Union.
Carrying out international transportation, we take into account when planning routes and calculating the delivery time all the current rules of transportation in foreign countries, which is why we always do our job clearly and on time.