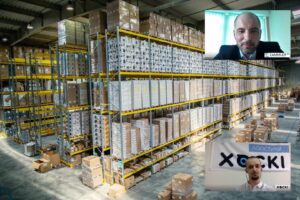 Anton Tsymbal, Commercial Director of ZAMMLER GROUP, took part in the online event of the HASKI company – "PRO LOGISITCS", which took place on March 25 at 16:00 at ZOOM.
Anton Tsymbal spoke about the intricacies of organizing warehouse processes in Ukrainian logistics, including ZAMMLER.
How is the coronavirus crisis changing logistics trends?
Logistics is always changing and the coronavirus is another challenge. We, as a company that provides the entire cycle of logistics services, of course, notice changes in business processes. This is a decrease in imports of goods from the EU – 10-15% over the past year, and problems with permits for cargo transportation in Europe. In warehouse logistics, on the contrary, the situation has improved – the demand for warehouses continues to grow, as customers continue to form stocks in case of unforeseen situations. Usually warehouse logistics is a long game and the warehouse vacancy rate is 10-15%. Now, according to statistics, warehouses are 99% full. At least for our sites – it is.
Many companies are faced with an outflow of qualified personnel. Does your company have such a problem, and if so, how do you solve it?
Several years ago, when the borders with Europe have opened, there really was a large outflow of personnel. First of all, warehouse logistics personnel. This is mainly due to the higher salary that was offered in the neighboring Poland or Germany. Later, the situation stabilized somewhat, because salaries in Ukrainian logistics increased and the difference between payments here and abroad became not critical. In the last year, the outflow of personnel has also significantly decreased due to the fact that the labor market in Ukraine has sagged and, no matter how banal, but many began to hold on to their jobs.
How was ZAMMLER able to gain a foothold in the logistics services market and compete with international companies?
In my opinion, cold settlement helped to become one of the leaders of Ukrainian logistics ZAMMLER. At first, the company was engaged only in transport, but later moved on to large warehouse logistics. And warehouse logistics is an anchor for the development of the logistics business. Only the client gets to your warehouse, the relationship becomes more trusting and it is easier to develop other areas of business. This is not a transport where, at the slightest problem, the client can change the carrier. A warehouse is a sufficient strategic step. We are proud to be in the top five warehouse logistics companies in Ukraine. The crisis of 2014 also helped us in this partly – then the market "sagged", there was less competition, and it was possible to attract more customers. What Western business could not afford due to a significant delay in decision-making, we managed to do.
In which countries are ZAMMLER representative offices, how do you make and coordinate important decisions?
Everyone can imagine the Silk Road, the dynamics of the opening of ZAMMLER representative offices resembles this road. China, Kazakhstan, Ukraine, Poland … This year we are planning to open our office in Germany. We are moving further into the center of Europe. On the one hand, it is difficult to coordinate actions, but on the other, cadres decide everything. Therefore, the people who run our offices in each country are professionals in their field. 99% of daily problems are resolved quickly. I think this is the right emphasis on people, the right bets on the leaders who help run the business. Constant contact, constant monitoring, numbers, discussions, explanations – all this happens all the time, there is nothing without it.
Tell us, what storage space do you have and plans for scaling up for the next two to three years?
Now we are in the main cities of Ukraine. Kyiv, Dnipro, Odesa. We have two sites in Kyiv. Class A warehouses are located near the Boryspil airport and near the Brovary city, where our main clients are located. Despite the precariousness and unpredictable aspects of development for the coming years, we do not stop. We only have plans for growth.
Personnel outsourcing question. When do you use it?
The staff is our everything. The issue is being resolved from the Kyiv central office of ZAMMLER. Our representative offices in other countries are headed by immigrants from Ukraine. They do an internship and then go to foreign offices. We select personnel abroad in various ways. For example, in the representative office in Kazakhstan, which we opened last year, we hire personnel through recommendations, market reviews, communication with partners and a continuous process of interviews. We used standard social networks and ad platforms.
With regard to outsourcing. We use it for a number of jobs. Firstly, at work that does not require qualifications, for example, unloading and loading. Most of our clients are technological. Each of them is different from each other. In order to work with some equipment, it will not be possible to teach quickly, there people gain their experience for years. The second aspect is seasonal projects. For example, New Year's packaging processes. We use temporary staff there. We also use outsourcing at the request of our clients in the cities of Ukraine, in which we do not work.
How do you track employee performance levels?
There are different KPIs in different departments of our company. Warehouse is the speed of assembly, the number of collected cases, the employee productivity and working out his time so that we can not increase tariffs for customers, but keep them in a normal market field. The main indicator is the profit that employees bring. Each area has its own KPIs, it is important to set up those that will help, not hinder. We are constantly trying to improve, change, and motivate our staff.