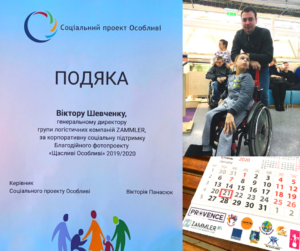 Each family is unique and exceptional in its striving to be happy, but human and family values are general even if the family brings up the child with disabilities.  #ShchaslyviOsoblyvі photo project having started at the end of November is intended to reveal this fundamental truth to the general public. Brief summary of the project:  5 preparation weeks, 5 photographers, 18 hours in the studio, 100 free-of-charge sessions for 100 families with disabled children and more than 5000 photos. Today the official project presentation was held where each family was provided with individually-tailored calendar, children were given the sweeties and everyone could enjoy the festive atmosphere.
Thereafter the photos will be represented in various public places.
ZAMMLER GROUP being socially responsible and concerned about the children's destiny joined the project and assisted in its implementation in cooperation with Provence Photostudiо.
Official gratitude was expressed to Viktor Shevchenko, the Chief Executive Officer of group of companies ZAMMLER for supporting #ShchaslyviOsoblyvі project.
In response we would like to thank the project initiators for providing us with an opportunity to do a good deed.