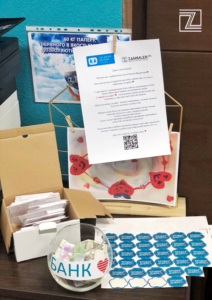 There is never too much love. On the occasion of St. Valentine's Day, ZAMMLER GROUP launches an action "With love in the heart" – fundraising in support of large families in difficult life circumstances. The international charitable foundation SOS Children's Villages of Ukraine became a partner of the initiative.
The essence of the project is to join the financial support of families with children in a difficult situation. For this, a box with charitable valentines, sponsored by children, was installed in the ZAMMLER offices. Each postcard is the result of children's creativity and reflections on the question "What is love?" For example, 6-year-old Veronica believes that "Love is when they allow you to eat sweets before dinner." And this is just one of the definitions.
To join the support of families, you need to take a valentine card and leave any amount in return.
The collected funds will go to help vulnerable families with children, namely, the purchase of food, clothing, household items and payment for the services of specialists for working with children: correctional teachers, speech therapists, psychologists.
You can also make a money transfer through the organization's website – sos-ukraine.org.
In addition, ZAMMLER employees who join the initiative can take the "ZrobyVDobro" sticker, which indicates a good deed. We want to remind, that such stickers could be collected within a year, and soon the results will be summed up and the kindest ZAMMLER employee will be determined.