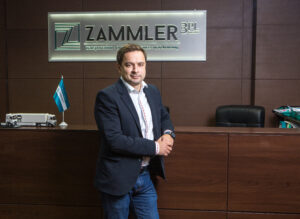 "During a crisis, logistics already begins to dictate the rules of the game to the client, and not vice versa. Dumping in a crisis is impossible: at this time it is better to get rid of the product that pulls you into a minus. We are not ready to work at a loss: better we will become smaller, we will lose positions, but we will have money, than work on a beautiful picture, but without finances. Sooner or later, the dumping ends, and the client understands this. The only question is: when?"
In a new interview for "Novoye Vremya. Business" magazine, CEO ZAMMLER GROUP Viktor Shevchenko spoke about how the global pandemic affected ZAMMLER GROUP, about entering new markets during this difficult period, about trends in logistics in 2021 and beyond:
"Our company has experienced at least three major crises in the last 13 years – this year, caused by the coronavirus pandemic, in 2014 and 2007. We are already used to working in crisis situations so much that such periods are more familiar to me than quiet times."
More information about the material can be found at the link.