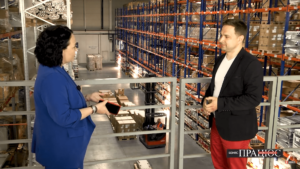 "The contract you signed must be fulfilled. A crisis is not a crisis, and it often happens that a client tests you. If you refuse at this moment: I don't want to, I won't, you can put a cross on this client "- this is how ZAMMLER GROUP co-owner Viktor Shevchenko characterizes work in difficult periods for the company. What gives a boost to business when it is difficult to move? Shevchenko told about it in the program "Business works even in quarantine" on the 8th channel.
⠀
Our company was founded in 2007, a crisis year. And from the beginning of its work the co-owners are picky about the budget. Financial indicators are compared not once a year, but monthly. This is one of the rules of survival that the crisis has helped us learn. Still – a work plan for a year, and for 10 years ahead.
Among the secrets of the company's success is greater freedom for employees. Today we employ more than 600 people. And everyone's powers are wider than job descriptions. Shevchenko puts it this way: "Everyone here is a fighter in the field. Can hold the defense, attack. If you do not drive a person into the frame, he thinks more broadly. What's better: a well-defined tunnel. Or when do you know that there is opportunity for maneuver? "
In 2014, the year of new financial cataclysms, ZAMMLER GROUP enters the international market. Here, the company made a management mistake that cost hundreds of thousands of dollars. But this experience insured against similar problems in the future.
In 2020, during the quarantine, which entrepreneurs rightly call a crisis, the company adds a representative office in Kazakhstan to the list.
How to move forward in the most difficult time for business? What does it take to win the trust of partners from abroad? Answers to the link, in the program "Business works even in quarantine". Useful viewing!