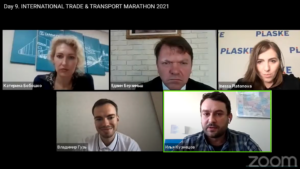 On May 24, within the framework of the international online conference INTERNATIONAL TRADE & TRANSPORT MARATHON 2021, a panel discussion "Container Railway Transportation" took place. Kateryna Boboshko, Head of Sales at ZAMMLER GROUP, made a report on "Alternatives to Sea Transport. Rail Container Transport: Pros and Cons". She analyzed the prospects for the development of rail transport as a result of rising sea freight from China and provided comparative data.
"If in December 2019 the tariff rates for sea transportation from the main ports of China were 1600-1750 $ for 1 container of 40dv, in April 2021 the prices increased more than 5 times – to 8500-9000 $ for 1 container of 40dv", – told Kateryna Boboshko.
According to the Head of Sales ZAMMLER GROUP among the main blows to maritime transport: quarantine in China and quarantine restrictions, flight reductions, excitement with seats on flights, instability of tariffs for transportation and delays in cargo handling in the port.
As a result, the demand for container transportation from China by train has increased. In May 2020 the first direct regular container train PRC-Ukraine started operating and ZAMMLER GROUP became the only official partner of the Chinese railway operator in Ukraine.
"Today there are 21 routes of container trains, while in 2017 there were 2. Compared to 2020, the transportation of containers by trains on domestic routes increased by 11%. At the same time, the level of containerization in Ukraine is only 1%, while in the EU it is about 45%, "– said Kateryna Boboshko.
During the meeting, other participants also shared their experiences and views on changing routes, rates, conditions and prospects for the development of rail transport.
Thanks to PLASKE Academy for the invitation and the opportunity to share our experience!